A divorce custody battle is one of the most difficult and emotionally disturbing situations that a parent can face. Many parents lose custody of their children, without even understanding how it was done to them. We can help you get fair proceedings, based on our 20 years of experience with helping parents going through divorce with children.
You need to know the specific steps you can take to reduce or eliminate custody problems that could force you back to court at great expense. Worst of all are the parental alienation cases (where one parent puts down the other parent in front of their children), unfortunately this has become more and more common today.
A competent family lawyer can be of much help, but it is very expensive to have him or her guide you through all the details you need to boost your custody case, and they are not usually trained in parental alienation issues.
There are also additional custody issues not part of family law, and even the best family lawyers are not trained to help with these. Lawyers are focused on the legal aspects of the case, not on the other problems of divorce such as helping you through a custody evaluation. What you are missing here may cost you the custody of your children.
For this reason, many family lawyers and mediators across the U.S. have provided our materials to their clients, because they found they were helping clients even in the most difficult cases.
CLICK HERE TO ORDER OUR HELPFUL MATERIALS IMMEDIATELY!
My client had limited visitation with the young minor child based on [false] domestic violence allegations made by the other parent, who was a drug abuser.

[After use of this material,] the long drawn out battle finally concluded with my client awarded primary physical custody of the child and the other parent awarded limited, supervised visitation.

~Barbara G. Azimov, Executive Committee,
Family Law Section, San Fernando Valley Bar Association
We have proven materials that have been used by thousands of parents to guide them step-by-step through making the needed progress in custody cases. If you aren't clear about the specific needs of your children, who do you expect will be?

We show you how to present, with the confidence that can only come from a real understanding, what is truly in the best interest of your children. We tell you what the numerous important choices are, and we show you exactly what they mean. If you don't pick up this information now, you will be going back to court many times as your children grow up, each time to the tune of several thousands of dollars in legal fees. That is what happens to most parents, and it is draining both financially and emotionally.
Especially in high conflict cases, the courts often decide the custody split based on a so called Child Custody Evaluation. We tell you how to prepare for it.

The evaluator is an investigator who will make an extensive report to the court. If you pay the bill, you may think that this person works for you, but this is not so. He or she works for the court, with the task to make a professional evaluation and recommendation to the court.

The bad news is that from our experience with many cases over the years, these evaluations are rarely handled well. The result can be great injustice and a very negative custody situation for the children. Proper preparation for this evaluation is an absolute necessity!
The 13-page parenting plan I wrote using the Creating A Successful Parenting Plan book and template made a definite impression on the court-appointed custody evaluator, and the custody plan adopted by the court was an almost exact duplicate of the plan I submitted!
~Jim Ward, Los Angeles, CA
CLICK HERE TO ORDER OUR HELPFUL MATERIALS IMMEDIATELY!
Top family professionals on Creating A Successful Parenting Plan:
Creating a Successful Parenting Plan is the most comprehensive, organized and easy-to-use and understand material on the subject. Parents who follow the suggested format cannot help but come up with a parenting plan that will benefit not only themselves, but greatly benefit their children. Professionals in the area of family law thoroughly understand that parents working together to create parenting plans are 80% more successful in carrying out the plans than having a third party who does not know the family dictate what they should be doing.
- Deanie Kramer, Mediator, Divorce Resource
CLICK HERE TO ORDER OUR HELPFUL MATERIALS IMMEDIATELY!
We have put together a package that has helped thousands of parents across the U.S., consisting of the following:

1. Creating A Successful Parenting Plan New Edition Book
A crystal-clear and easy-to-read award-winning book with 124 pages of solid information, including everything you need to start making progress on your case right now.

You will get a complete understanding of the choices you need to make in your custody case, based on our 20 years of experience with helping parents nationwide.

When parents don't know exactly what to ask for in court, their cases go on for a long time. Sometimes years go by, with huge legal bills and much emotional stress.

Some of our clients spent as much as $500,000 in legal fees before coming to us. With our materials you will know how to make yourself understood by the court, and by using the proper terminology (the right words), you can compel the court to take the right action.
As a parent, you probably told you children many times, "Use your words!" when they were emotional and visibly upset but not able to express themselves to be understood.

Now, as an adult, you are facing the same situation. Nobody can understand what you are asking for unless you use the right words, legally meaningful words, with specific valid requests that a judge or commissioner can act upon.
This material helps you, regardless of whether you have a family lawyer or not. Far too many parents run out of money and have to continue through the court system without legal representation, and this material gives you serious help also in this very unfortunate and unpleasant situation.
2. Creating A Successful Parenting Plan Document Template
The Document Template gives you a ready-to-edit document to quickly create a professional quality, truly comprehensive parenting plan that is ready to be reviewed by your family lawyer and file with the court. The large number of choices you MUST make are carefully and clearly explained in the accompanying book.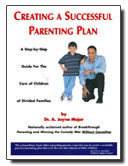 Get the award-winning "Creating A Successful Parenting Plan" Book & Template package now for only $40.00: Click here to buy using our secure server, with a full 30-day 100% total satisfaction guarantee.


We accept Visa/MC/AmEx/Discover cards, as well as US$ checks and money orders. More than 1,000 orders for these have come by referrals from family professionals.

This are the famous materials that actually work: they save money, time and aggravation!


Whether you have a friendly divorce (they do exist!) or suffer from extreme alienation, it is very important to be 100% specific about what you are asking for. This material allows you to plug in everything that can possibly be entered up front, so that your ex can't come back 3,6,9,12, etc. months later and demand court time (at a cost of typically $3,000-$6,000 in legal fees each time) to add new aggravation "because something wasn't covered."

This material is based on our 30 years of experience. We are simply saying you are not likely to find anything of better value in your divorce case than what you get for less than $40 here. Many thousands of parents have expressed their gratitude for this great resource!

If you prefer, you can also
download these materials to your PC or Mac
for $30.00 and start work immediately. Read and print in minutes! 100% perfect quality and guaranteed to print on any laser [or an inkjet printer, but ink is expensive], plus the Document Template, all with the same full 30-day 100% satisfaction guarantee!
These are proven materials, with many thousands of packages sold via professional referrals as well as personal referrals from parents who found that this material saved them thousands of dollars in legal fees and many months of emotional turmoil. We absolutely, positively guarantee that you will be satisfied.
(You can also order by phone at 559-795-5600 using your Visa/MC/AmEx/Discover card.)

IN A RUSH? IF YOUR PARENTING PLAN IS DUE TOMORROW:
1. Order the download version above, or call us at (559) 795-5600 to order a printed book, we can fulfill immediately via FedEx early morning delivery where available. We even ship overseas via FedEx.
2. Read pages 7-12 to quickly understand the process you will be going through.
3. Read the section for the applicable age group of your children from pages 13-22.
4. Read pages 37-60 to understand the most important choices you need to make in your parenting plan (many family professionals buy this book for their clients as it has been found to help more than any other resource).
5. Open the Parenting Plan Document Template and edit it as you make each choice as explained in the book.
6. Read pages 23-33. These are vital for understanding your children's needs in this new situation.
7. Read your finished plan again and submit to your lawyer, the court or your ex-spouse if you have a collaborative divorce.